Setting & Activities
Children learn best through play so I work mostly on a child led basis and any planned activities are worked around the child's interests, as well as mine and parents/carers observations of the child to ensure we are meeting the developmental needs of each individual child.  I ask that children attend for a minimum of two days so I can ensure they settle well and get the most out of their time with me. I have a range of toys and resources, inside and outside, for the children to explore and I aim to have story and song/music time at least once a day. I encourage regular outside play in all weather and we aim to go out some mornings either to a toddler group, music group, soft play, walk, park, library or shops to encourage the children to mix with other children, in groups small and large, and to experience every day life.
Each Child in the Early Years Group (not in school) will have a learning journal through Tapestry Journal where I will keep written observations, photos and videos. Parents/carers can also add to this from home/work (information such as what your child has enjoyed or achieved, photos and videos). Parents/carers can access their child's learning journal at any time. Parents/carers views are encouraged and valued. They know their child best and I would like to work with that to help each child make the most of their development and learning whilst in my care.
Children will also receive a book bag. They will be able to borrow a book from the setting to take home and share with their family. I can change this as often as you like.
I aim to be as eco as possible within the setting. I have experience in using washable nappies and currently use washable wipes as much as possible. Other peoples rubbish have become our treasures (real tea pots and cups, kitchen scales, type writer etc) and we continue to look for more. I aim to teach children the importance of reusing items and recycling and we use lots of other mark making opportunities to limit the amount of paper that is used.
Lounge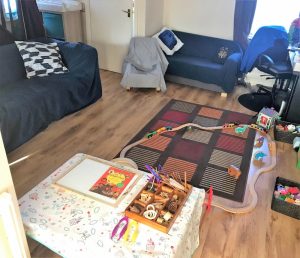 The lounge is the core of the setting.  I aim to keep this space clear for the children to use as required, but it is mostly used as a chill out / calm room where the children can have a nap, watch TV or a film, look at a book or just have some quiet time.  I may also use this room just for babies.
Conservatory (play room)
There is a large selection of toys in this room for different age groups which children can freely choose from to encourage independence and confidence. This room is often changed to suit children's interests and characteristics of learning. Children are encouraged to set their own play, and by following the child's lead, I can bring learning, support and next steps into this as they play. The children can choose from:
Books
Toy kitchen (sometimes this is moved into the dining room)
Wooden building blocks
Duplo
Toy animals
Cars & trains
Wooden toys (arches, rainbow, trees, barn, stacker etc)
Dolls, highchair and moses basket
Musical instruments
Dolls house
And more
Dining Room
This room is used for meal times, messy / creative play. These activities include: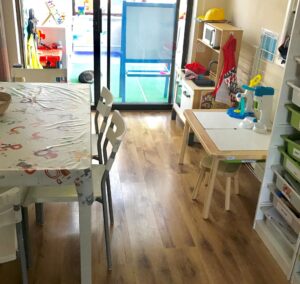 Mark making
Toy kitchen (when not in playroom)
Cutting & sticking
Painting
Playdough / Moondough
Sensory play (foam, pasta, rice, corn flour mix, slime etc)
Hama beads
Threading / sorting
Board games
Cooking preparation
Jigsaws
And more
Garden
Children are encouraged to play outside regardless of the weather. There is a range of garden toys/resources for the children to choose from. Again, children will be encouraged to set their own play and I will support them and bring any learning or next steps into their play by taking their lead. These toys/resources include: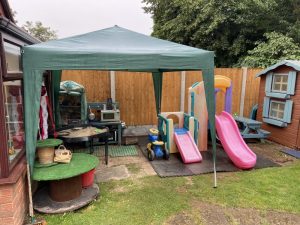 Ride on toys
Scooters
Slides
Pushchairs
Sand & water play
Busy board
Natural resources such as, wood, logs, sticks and pine cones
Picnic table
Floor chalks
Bubbles
Play house
And more
Trips/Outings
Throughout the year, I take the children on many outings suitable for their ages and stages of development. This gives the children stimulated activities daily as well as interaction with other children in a larger setting, helping them to develop personal, social and emotional development as well as developing other areas in their development. These include: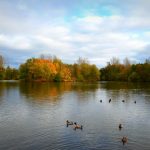 Play world soft play (leisure centre)
Tigers play
Chipmunks gym (prev baby gym)
Boogie Beanies
Library
Parks
Feeding the ducks
Walks
Toddler/play groups
Country parks (Brixworth, Draycote, Ryton Pools, Sywell, Daventry)
Wicksteed park
St Nicholas park
Farms
Zoos/Safari Parks
Other childminder settings