Lets begin with my Eco Journey – 25/01/2020
Just before Christmas 2019 I became aware of how little I talk about our eco journey and the eco environment I am trying to create, not just my own family, but as a childminder as well.
When I think about my journey so far, I realise how far we have come, especially over the last year, so I thought why not share this with others? I will aim to post once a week about a change that we have made to become a more eco sustainable home and setting, along with some posts on what we have been doing in the childminding setting, any new things we have tried, or changes I have made to the setting and why.
This is where my first ever blog begins 🙂
Eco swaps – For me the biggest change / swap I have made was for my childminding business. Washable Baby Wipes.
I first attempted this swap when I was using washable nappies part time with my 3rd child, over 3 years ago. They looked expensive to buy so I decided to make my own by cutting up some fleece fabric a friend had given me, but I had no idea what I was doing and cut them too small. This resulted in them getting stuck in the washing machine filter so I quickly gave up and reverted back to disposable wipes. Fast forward 2 years to around August 2018. I think I had received an email offer from Cheeky wipes. I was chatting to a friend about it who said, if you place an order please could you get me some more and that would make the postage free. That helped give me a push to try again and that afternoon I made my first order from Cheeky Wipes and bought a basic kit consisting of 25 premium cotton terry wipes, 1 tub, 1 small wash bag and a travel spray. I already had a tub here to store used wipes if needed. They were, and still are, the best thing since sliced bread. Not only are we reducing landfill waste, they are chemical free so kinder on baby/child and my hands, and you only need one or two to clean a dirty bottom and not half a pack like with disposable wipes. They may have seemed expensive at first but considering I would go through 2 packs of disposable wipes, sometimes more, a week, I think I am already making savings.
Using the washable wipes at home was so easy, even when I had a child in a disposable nappy. Fill the tub with the wipes, soak them until they are all damp, and they are ready to go. You can buy essential oils to make them smell nice but for me this was a faff and eventually would mean another little plastic or glass bottle going into the recycling (why is this an issue? I will come to that in one of my later blogs). I have another lidded tub next to my nappy station for the dirty wipes to go into. These go in the wash on a 60 degree wash, along with any other flannels, towels, cot bedding etc that I have used or anything else that can be washed on a high wash.
Using the washable wipes when out and about took a little longer to get used to. Its okay when I have a child in a washable nappy as I can just store the wipe with the nappy in the wash bag until we got home, but when I have one in a disposable I have to make sure I have a separate bag with me to store the dirty wipes in. If I know there will be a sink near the changing area, I just take the wipes dry and wet them just before changing a nappy. If I am unsure if there will be water available, I take some wet in the little cheeky wipes waterproof storage bag that I got with my kit. The only down side to taking them wet, is you can't leave them in your changing bag or they go smelly so I have to remember to put them in before we go out. You can buy sprays but unfortunately I don't get on with the one I have but defiantly worth a try.
My tips
You will need 1-2 lidded tubs 1 for clean wipes and 1 for dirty wipes unless you're only using washable nappies. Around 25-50 wipes (depending how many children's nappies you need to change). 1-2 small waterproof wash bags, 1 for clean wipes and one for dirty wipes if child is not in washable nappies.
I bought mine from Cheeky wipes (link below) but they can be purchased from other places as well.
The wipes work best once they have been washed.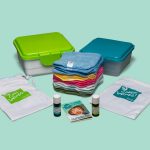 Don't store more than 2/3 days worth of wet wipes in the tub as they will go smelly.
Tumble drying them keeps them soft but is not essential.
Don't wash using fabric condition as this can affect how they absorb the water that you need them to soak up.
If you make your own, make sure they are around 20 x 20cm so they don't get stuck in the washing machine filter
Links – https://www.cheekywipes.com/