Mark Making/Cutting/Craft Station – 04/02/2020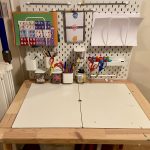 Two weeks ago we attached this notice board from Ikea to the children's table that we already have, also from Ikea, after coming across an idea on pin interest. The pens/pencils/scissors etc have always been available to the children to use wherever they like, within reason, however, because they were in drawers, they often didn't go self choose these items, even though the drawers were labeled with a photo.
This probably hasn't been used as much as I thought it would but I think that is down to a change the children's interests at the moment, however, I have found that when they need a pen/pencil or pair of scissors, they have gone to the board and found them with ease and taken it away to use in their play which is what I was hoping for.
Links: